The lacquerware 'The Traditional Image of a Peasant's House' on the Sotheby's Hong Kong website. Photo courtesy of the auction house
In an announcement sent to Ace Le, a Vietnamese independent curator and art researcher in Singapore, the Hong Kong auction house wrote: "Sotheby's has become aware of concerns about the authenticity of the traditional image of a peasant by Nguyen Van Ty (Lot 778, Modern Art Day Sale, October 10, 2021). Sotheby's takes issues of authenticity seriously and will remove this work from auction and conduct further investigations. »
Sotheby's took the step after many Vietnamese art scholars and even the late painter's family expressed concerns, saying the work is not authentic.
Earlier, the lacquered wood folding screen titled The Traditional Image of a Peasant House was posted on Sotheby's website for an expected price of HK$700,000-1,000,000 (US$89,000-128,500), before the next Modern Art Day sale on Sunday.
The work's introduction reads, "This work is comparable to Nguyen Van Ty's The Traditional Image of a Peasant's House (1958) in the Hanoi Museum of Fine Arts."
As soon as the item was featured on the Sotheby's website, it raised concerns within the Vietnamese art community about its authenticity. In particular, painter Nguyen Binh Minh, Ty's daughter and former deputy director of the Vietnam Fine Arts Museum, confirmed that the work auctioned by Sotheby's was not original.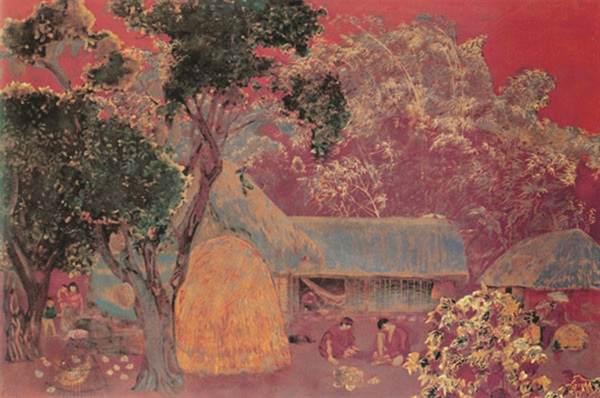 The 'Nhà Tranh Gốc Mít (Cottage By Jackfruit Tree) by Nguyen Van Ty at the Vietnam Museum of Fine Arts in Hanoi. Photo courtesy of the museum
According to the artist, his father only created the jackfruit lacquer painting measuring 67×105 centimeters, titled Nhà Tranh Gốc Mít (Cottage By Jackfruit Tree) which was exhibited at the National Fine Arts Exhibition in 1958. The work was transferred to Vietnam Fine Arts. Museum in 1960 and has been preserved and exhibited there until now. The painter Ty was posthumously awarded the Ho Chi Minh Prize for Literature and Art in 2000 for this painting.
"In fine art, there is no 'comparable' artwork to another," said art scholar Ngo Kim Khoi.
"I believe this term has been deliberately studied in order to create an ambiguous meaning to mislead those with little experience in collecting old paintings.
"Sotheby's had a major oversight when listing a consigned work without first consulting the artist's surviving family. And his daughter, Nguyen Binh Minh, is not just anyone – she is the former deputy director of the Fine Arts Museum of Vietnam and an artist herself," wrote Vietnamese art curator Ace Le. in Vietnam News.
However, according to him, the decision of the auction house to withdraw the lot is indeed a constructive and welcome decision.
"It shows that they have listened to the Vietnamese artistic community and are ready to right their wrongs. We must encourage such diligence," he added.
Speaking to Tuổi trẻ newspaper about Sotheby's decision to withdraw the work from its upcoming auction, Minh said she greatly appreciates the auction house's responsive and demanding attitude.
However, she also hopes that the search for paintings, especially those of deceased artists, will be implemented with more care and depth to avoid similar cases that could seriously affect the reputation of the artist and cause damage to the art market.
Nguyen Van Ty (1917 – 1992) graduated from the Indochina College of Fine Arts and was part of Vietnam's generation of great lacquer artists. He was the first secretary general of the Fine Arts Association of Vietnam.
Critical issue
Many fake paintings by Vietnamese artists, especially those who graduated from the Indochina School of Fine Arts in the early 20th century, have been listed on the stock market by many international auction houses around the world.
The problem, according to art scholar Khoi, "is a dilemma for the nascent Vietnamese fine art painting market", as state law lacks transparency in copyright protection of art. .
Previously, Sotheby's Hong Kong also removed two artworks, Lá Thư (The Letter) by To Ngoc Van and Hai Cô Gái (Reposing Ladies) which were considered fake.
In mid-July 2020, the France-based auction house, Tajan, removed five of the six paintings associated with famous names in Vietnamese art such as Nguyen Gia Tri, Duong Bich Lien and Bui Xuan Phai from their July 21 sale after concerns about their authenticity.
Other masterpieces of Vietnamese art, Thuyền Trên Sông Hương (Boat on the Perfume River) by To Ngoc Van and Lady of Hue by Le Van De were sold for $57,000 and $89,000 respectively by Christie's. However, two identical works are on display at the Hanoi Museum of Fine Arts.
"Works from the Indochinese era have stood the test of time and hold a special appeal for a majority of Vietnamese collectors, who still yearn for modern art that follows classical aesthetic conventions," said art researcher Ace The.
"As they continue to smash record prices, speculators have joined the fray, actively seeking investment opportunities. Lately, I've seen plenty of them, and they're based anywhere – Vietnam, Asia Southeast, China or Europe. The problem is that they only care about whether the work can be returned to the next buyer, at what profit, without really worrying about authentication."
The two art scholars said it was of the utmost importance to first build a solid foundation of copyright and art laws.
"The art community – associations, museums, practitioners, collectors, dealers, researchers, etc. – with the help of the media, must unite to share information and boycott fake works and fake sales.
"Finally, in the longer term, it is necessary to create not one, but a number of independent authentication agencies, which have sufficient expertise in the field and technical equipment to provide the services essential to the market," said Ace Le.
Source: Vietnam News

Le Pho painting sold for $1.1 million at Hong Kong auction
Famous painter Le Pho's masterpiece Young Lady Tying Her Scarf sold for US$1.1 million at an auction in Hong Kong on May 24.

Veteran Artist Needs Help With Forged Painting
Veteran artist Nguyen Thu called for help because a French auction house sold a painting under his name, according to fine art researcher Ngo Kim Khoi.